Umicore Belgium recognized as a Top Employer for the 18th time in a row
Umicore is proud to announce that it has been certified for the 18th time as one of the Top Employers in Belgium, recognized as providing excellent employee conditions, nurturing and developing talent throughout all levels of the organisation, and striving to continuously optimise employment practices. Crucial to the Top Employers Certification is the completion of a stringent international process, and meeting the required HR standards in order to achieve the exclusive Top Employers Belgium 2023 Certification. In other words, Umicore provides an outstanding employment environment.

Career opportunities
As a matter of course, training and personal development belong to your career. Because we find it very important that you keep your personal skills and knowledge up-to-date. This is essential for your career - and essential for us. You are also able to grow horizontally, for example to another business unit. And internationally, we offer a lot of opportunities. All our sites have international contacts that give your work a view of the world as well. If you're flexible and mobile, you can seize those opportunities.

Work-life balance
We offer various possibilities for our employees to build a healthy work-life balance. You can work from home or dependent on your function, work from one of our four Belgian locations. On top of that, you are able to work part time or exchange your end of the year premium for extra paid leave. This enables you to take a full month off for instance during the summer holidays. You are free to do so every single year.

Attractive pay: primary working conditions
Included in your career are: a nice competitive salary and meal vouchers amongst other benefits. Depending on your position, you can opt for an environmentally friendly company car. We also provide group and hospitalisation insurance and life and disability insurance.

Materials for a better life
What also puts us among the Top Employers of our country is our business itself. With future-oriented activities such as recycling, catalysis and the production of materials for, among other things, high-tech solar panels, we work towards a cleaner world every day. This involves a large portion of our budget going to R&D in order for us to become even better at what we do. Our commitment also translates into a greener car policy, investment in solar panels and rainwater recovery for our offices, contributions to forest development projects, ... We have the room for your career, and room for your commitment. That's what working at a Top Employer is all about!

Want to know more?
Take a look here.
Top Employer Testimonials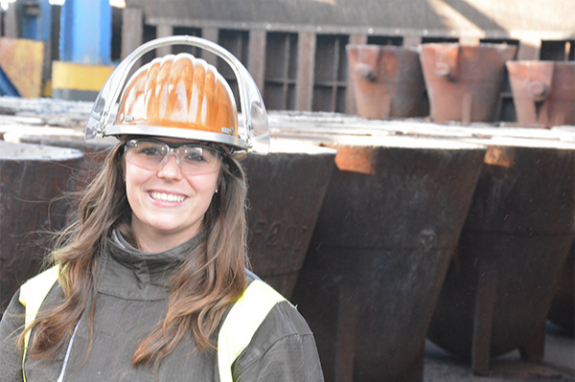 Séverine Verduyckt
"The first thing I noticed when I came to work for Umicore was the welcome newcomers received: friendly and in an atmosphere of comradeship. I'm not surprised that Umicore has been named a Top Employer for the 15th time. Right off the bat I felt very welcome and I was considered one of the guys. Employees have so many opportunities here to keep learning and growing thanks to a broad range of training courses and constructive feedback sessions. Great attention is paid to employee well-being and the flexible work schedule guarantees a healthy work-life balance. In short, it's great to work here!"
Amar Kaadouch, Young Graduate - Group Control and Consolidation, Brussels
"Someone once told me: 'you don't apply for a job here but for a career'. When I first got to know Umicore I didn't know what to make of that statement but meanwhile I totally agree! A pleasant working environment gives you the incentive you need to put your best foot forward every single day and to look for new solutions together with your colleagues. This also means that sometimes you're confronted with situations that challenge the limits of your abilities. Umicore mainly sees this as a positive evolution: it's not an end point but the start of a new phase: one where you learn, acquire new skills and absorb knowledge shared by colleagues. As a result, you're constantly making progress in an open culture of collaboration, now and in the future."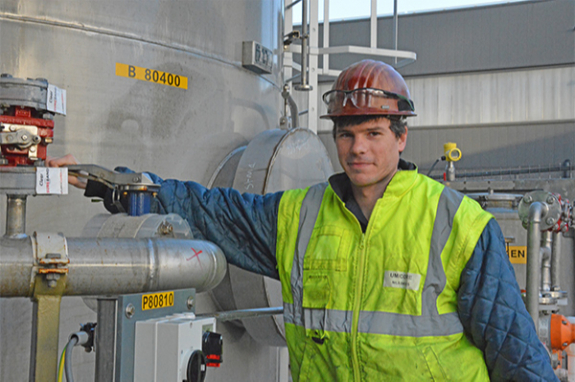 Nils Broes, Assistant Project Manager - Precious Metals Refining (technology), Hoboken
"I am living proof that you can climb the ladder fast at Umicore, with the support of the company and thanks to knowledge sharing by colleagues. In 2016 I started as an Engineering Trainee and that 18-month period gave me a taste of a variety of functions. Eventually I chose to join the technology project team because that was the job that suited me the most. When my own manager took a promotion in a different department, I was given the opportunity as a young engineer to prove my worth in several large projects. Apparently I did rather well because meantime I've advanced to assistant project manager."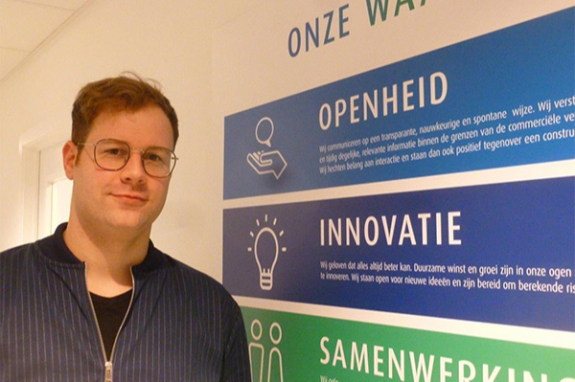 Fabris Toussein, Product Stewardship Project Leader - Specialty Materials, Bruges
"I've been with Umicore for 12 years now and I'd recommend it to anyone. You truly get the chance to develop your talents and hone your skills. Personally I'm very grateful I was given the chance to enrol in different training programmes (bachelor, postgraduate degree, …) and subsequently use the acquired knowledge in various functions. The open business culture, the attractive salary, the flexibility and the approachable senior managers complete the picture – and I'm sure there's a whole list of assets I forgot to mention!"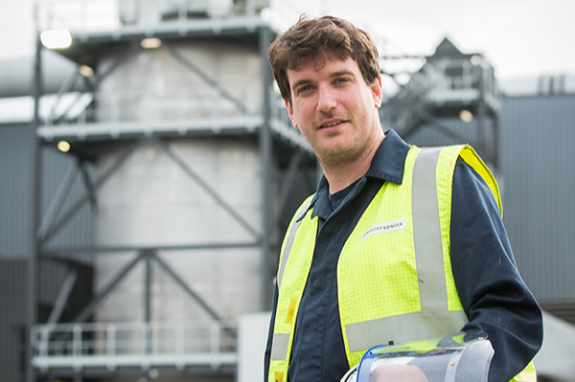 Robrecht Ebinger, Operations Manager - Precious Metals Refining (smelter), Hoboken
"I first came into contact with Umicore in my previous job. The company's vision and mission really appealed to me, as did the way in which their employees interacted with each other. In 2017 I decided to apply for a job here. What I truly value about my job is the open atmosphere of collaboration across all departments and between staff. As a Top Employer, Umicore also purposely invests in the personal development of its people. I got to experience this first-hand because as a starting manager I enrolled in the Leadership Development plan and the Engage training programme shortly after I arrived. Perfect to take that next step in my career!"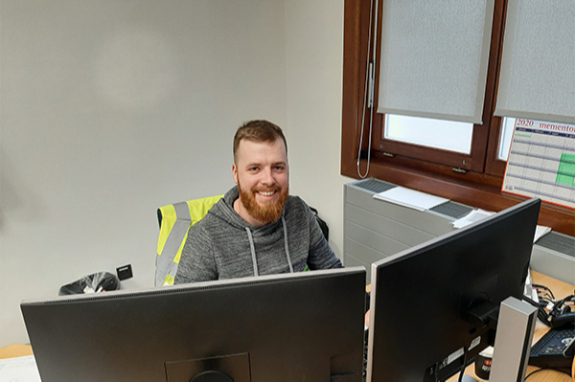 Rik Smets, Chairman Process Risc Analysis, Cobalt & Specialty Materials, Olen - IDPB
"It's true that Umicore is a multinational and a world player of note, amongst others in the recycling of battery materials. Still, every day it feels like I'm working for a family business. I'm the third generation of my family to work for Umicore. Naturally, this creates a personal connection, which is strengthened even further by the social character of the company itself. Umicore is not just a place where you spend 40 hours a week. The sports events at the weekends, the company's strong social commitment and its high visibility in everyday life are just as important to the people in and around Olen."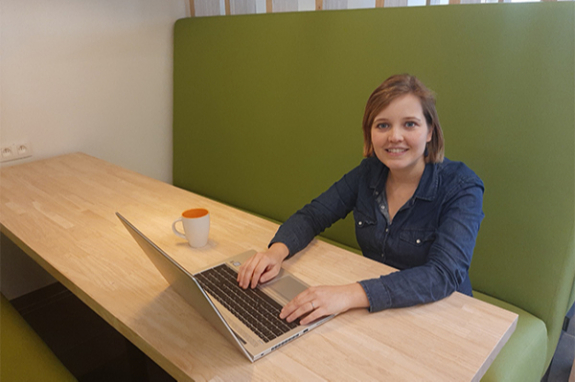 Annelies Bellen, Business Controller - Electro-Optic Materials, Olen
"Are you looking to advance horizontally or vertically or would you prefer to work in a different department entirely? Anything is possible at Umicore as long as you show a sense of initiative and a healthy dose of curiosity. Every day I work on projects that are both diverse and challenging. For instance, we started on a new SAP project that actively involves not just every department in our business unit but also foreign entities. Such projects demand intense collaboration in order to bring everyone up to the same knowledge level. This group spirit is also stimulated on an informal level through sporting events and team activities. This ensures frequent contact between the departments and gets everyone on the same page!"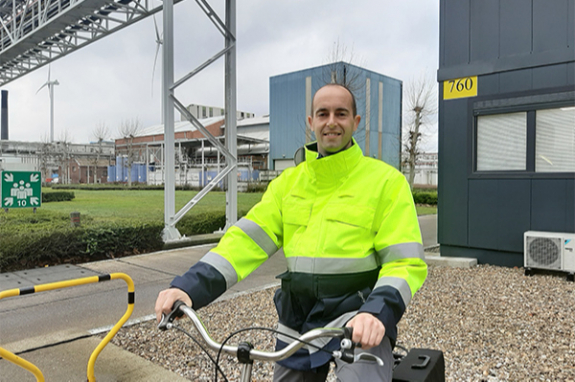 Koen Schoors, Senior Project Manager Engineering - Cobalt & Specialty Materials, Olen
"Employee well-being is a top priority to Umicore, that much was clear within a matter of days. As a newcomer I immediately felt at home and part of the overall picture. Even though you're joining a big firm, the atmosphere is very amicable and they give you every opportunity to integrate smoothly thanks to a wide selection of training courses. Going for a jog during lunch break or playing volleyball with colleagues, for instance, is the icing on the cake for me. It's an opportunity to get to know everyone in a different setting and it can only help the team spirit!"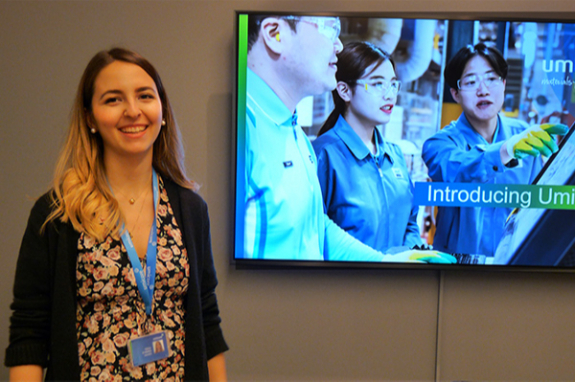 Valeria D'Andrea, Group Communications Officer, Group Comunications, Brussels
"I felt welcome here from day one, thanks in no small part to my helpful colleagues and their open-mindedness. We work together here in a versatile and challenging environment with people from different cultures, nationalities, etc. It's the ideal setting to exchange ideas, share viewpoints and learn from each other! Well-being in the workplace is also a priority for Umicore: we get fruit snacks and tips to improve our working posture but there are also info sessions on well-being and sports. I also have tremendous appreciation for the initiatives to reduce our ecological footprint, for instance the use of recyclable cups and recycled paper. In other words, I love being part of this organisation!"